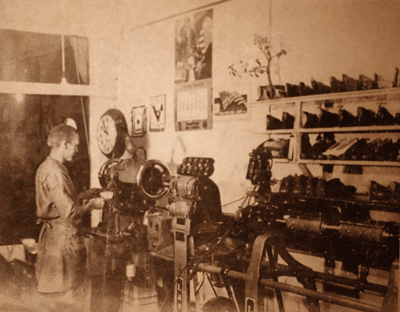 Our History
Around 1889 Peter Olson opened Olson's Shoe Repair at 224 Poyntz Ave. in Manhattan. In 1913 Peter's son Samual took over the family business and started the Electric Shoe Company. He had two stores located at 107 N. 4th St. and 1228 1/2 Moro. He and his son Clyde ran the stores together. When Clyde's health failed, his son Eddie took over.
Eddie Olson Sr., the present owner of Olson's Shoe Service, ran the shop from 1964 to 1984 located at 1214 Moro, in the current Jimmy John's sandwich shop. In 1984, Olson's Shoe Service moved to its present location at 1214 B Moro, behind the original shop. Eddie's son Edwin Jr. does the shoe repair work, continuing the tradition of the family business.
Currently, Olson's Foot Health and Shoe Service serves the needs of many. We do shoe repair and orthopedic work, as well as sell many brands of shoes from Birkenstocks and P.W. Minor, and our new line - Kumfs, from New Zealand.
Repair Work
Shoe repair has changed dramatically since 1880, but we have tried to keep up with the times. We use the best equipment, tools, and repair materials we can get our hands on. We also attend the SSIA convention each year to learn new techniques and materials that are available to us. We do this so we can provide our customers with the best service that we possibly can. This way we can continue to call ourselves "The Best Little Shoe Shop in Manhattan".